Clicking on any of these graphics will open them into a new window so you can see them easier.
Body Measurements
Measurements for Custom Orders
Please use the images to send us your measurements. If you have any questions please let us know.
When measuring please indicate your measurements as follows: A=5'2" B=32" and so on.
MEASUREMENT INSTRUCTIONS:
Get exact measurement flat on the body, record in inches. Do not add any allowance to your measurement. If possible wear a proper bra or body enhancing undergarments before taking measurements, preferably any that you wear during dancing.
Female/Male Use descriptions for measuring.
A=Height
B=Shoulder to Waist
C=Back Neck to below calf
D=Waist to below Calf
E=Waist (around)
F1=Shoulder to Elbow
F2=Shoulder to Wrist
G=Back Width (shoulder to shoulder)
H=Hips (around,fullest part of butt)
I=Arm Span (finger tip to fingertip)
DS=Dress Size(Please indicate Jr, Misses, womans)
SS=Skirt Size(Please indicate Jr, Misses, womans)
NECK=If ordering a choker & drop, please include neck measurement
HEAD=If ordering a headband, please include head measurement
INSEAM=for those wanting/needing pants with order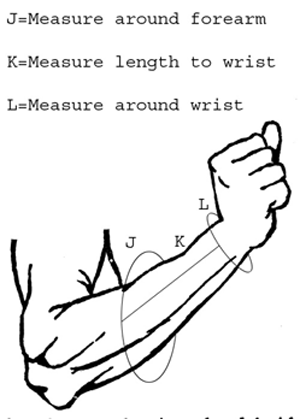 Cuff Measurements
Please make sure that your cuff starts at the wrist, and ends where you want it to, such as 4" up the arm.
Sometimes we have had people send measurements like 12-15" long,so please double check graphic and measurements.